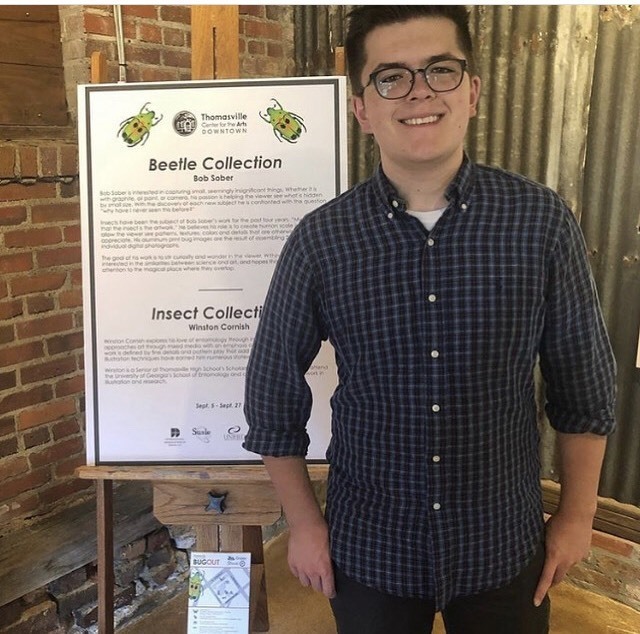 Cornish Featured in BUGOUT Exhibit
Desiree Celaya
Wednesday, September 18, 2019
Thomasville City Schools Class of 2020 senior Winston Cornish is the current Youth Art Exhibitor for the public art festival BUGOUT exhibit at Downtown Thomasville Center for the Arts (Studio 209).
Cornish is the first youth to be a featured artist at a Center for the Arts event that is not primarily composed of youth art. It started with the Center for the Arts' Youth Art Month competition last spring where Cornish won the Creativity Award for his drawing of a soldier bust whose eye is represented as a beetle, but it goes back even further to his years in art classes at Scholars Academy.
Cornish had art for two years in middle school and then continued during his 10th, 11th, and 12th grade years with Ashley Ivey-Jackson for Advanced Placement Studio: Drawing, Advanced Placement Art History, and Advanced Placement Studio: 2-D Design.
Ivey-Jackson explained that his 2018-19 AP Studio portfolio concentration had to do with metamorphosis and focused on insects and insect/human combinations.
"Darlene Taylor at the Center encouraged him to participate in the BUGOUT exhibit," said Ivey-Jackson.
Cornish is able to reflect on his growth as an artist, even at his young age.
"I've become extremely detail-oriented. I always was focused on details with large geometrics, but it got smaller and smaller. Now I rely much more on texture than just the shapes to achieve detail," said Cornish.
Ivey-Jackson can also attest to his artistic growth through exposure to artists and media from taking AP Art History and through his own experimenting with size and color. She notes that his most outstanding trait is his persistence.
"Where most students would get bored with 'waiting' for the subject matter to 'appear' as they work on a piece, he just continues on, one line or dot at a time until it is amazing. You really want to stop and study on his pieces so you don't miss anything," said Ivey-Jackson.
Cornish has plans after to high school to major in entomology and minor in scientific illustration. He sees natural connections between art and science.
Cornish added, "The forms I draw are based on what I see: organisms, tissues, human anatomy. The shapes are abstract if you look at them long enough — at least to me."
Cornish's art and insect collection will be on display until September 27, 2019.