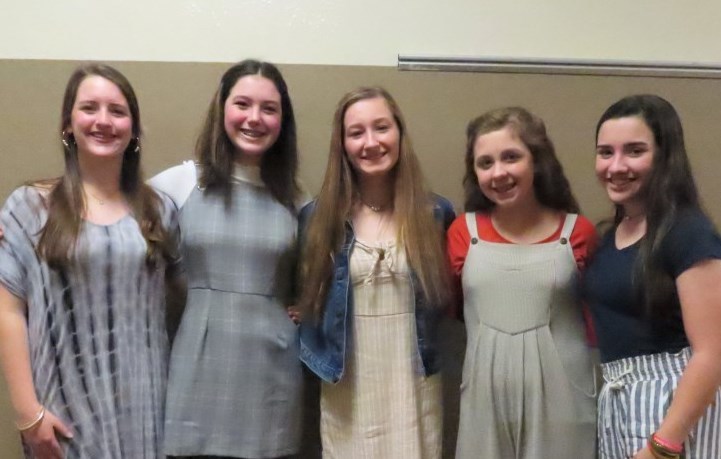 Middle School Holds Beta Club Induction
Desiree Celaya
Thursday, February 27, 2020
Thomasville City Schools held its middle school honor society Junior Beta Club Induction on February 3, 2020, at 6:00 p.m. in the MacIntyre Park Middle School Auditorium.
The purpose of Beta Club is to promote the ideals of academic achievement, character, service, and leadership among elementary, middle, and high school students.
Beta Club officers (pictured above) lead the program with the lighting of symbolic candles. President Maggie Claire Richardson lit the white candle for light, purity, and faith. Vice President Gracie Glaccum lit the red candle for pure love, wisdom, and bravery. Secretary Brianna June lit the blue candle for truth, constancy, and fidelity. Treasurer Keely Walden lit the black candle for dignity, restraint, and seriousness. Chaplain Matti McDougald lit the gold candle for warmth, friendship, and faithfulness.
Scholars Academy Beta Club Adviser Dee Renfroe and representative for candidates Emory Cochran led the group in the Beta Club Pledge. MPMS Beta Club Adviser Lori Sumner introduced the speaker Braxton Sizemore who is the Thomasville High School and Scholars Academy National Honor Society President. After inductees were individually recognized by the advisers, Challenge remarks were delivered by Scholars Academy Assistant Director Jennifer Jordan and closing remarks were delivered by MPMS Principal Courtney Davenport.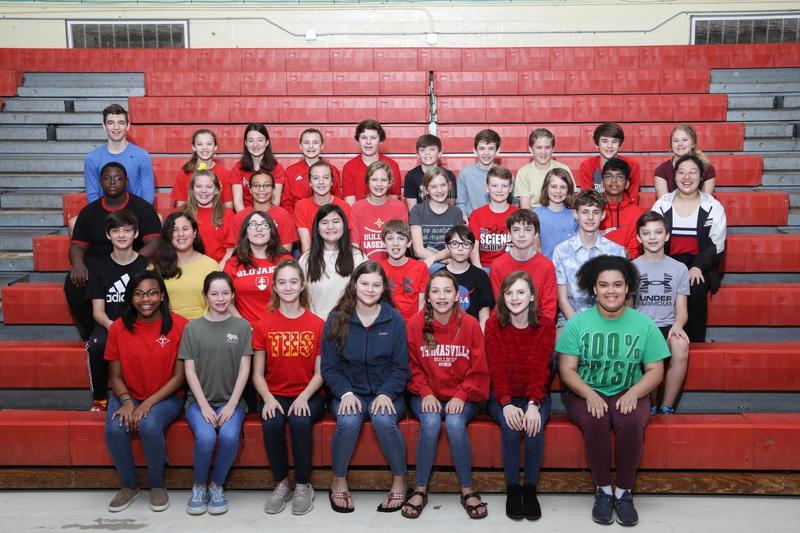 2019-2020 Junior Beta Club Inductees Pictured: Row 1 - Jordyn Bush, Kensley Rodd, Carlisle Bilbo, Hallie Coppedge, Harper Page, Laramie Stokes, Veronica Cornelius; Row 2 - Hunter Wade, Grace Cleveland, Morgan Nall, Mia Young, Brady Nichols, Max Barbulescu, Cole Crocker, Kelon Vaughn, James Martins; Row 3 - Brandon Myrick, Emily Raffiled, Ciny Martinez, Ella Kate Carroll, Emory Cochran, Kate von Hellens, Nicholas Connell, Mathew Mullins, Dev Patel, Janice Dong; Row 4 - Edward Shaw, Wren Spivey, Anna Shokat, Caroline Lewis, David Chastain, Bradley Vanlerberghe, Trip Gebel, Samuel Gerleman, Jasper Davis, Cassie Phillips. Not Pictured: Andrew Bennett.